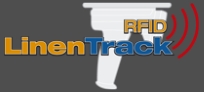 LinenTrack is LM Computers Radio Frequency Identification (RFID) Tracking system which is designed to automate a number of business processes, that have traditionally been time consuming, labour intensive and in terms of counting items in and out of the laundry, inaccurate. This system saves businesses considerable time and money, and once it is implemented demonstrates these cost savings very quickly.
Our customers include:
Flatwork Laundries

Garment Laundries

Large & Small Hotels

Gyms
LinenTrack RFID it is a very versatile product, and can be implemented in any business where inventory items need to be tracked.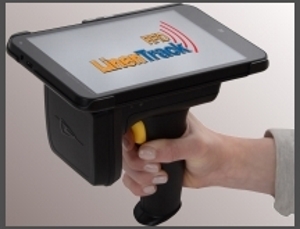 How does LinenTrack RFID work?
In order for the system to work each item is chipped with a unique UHF RFID tag. The chip is scanned and the assigned to the relevant garment or item of linen and subsequently added to the database. The database holds all data about the item, both current and historic. This includes, but is not limited to; what the item is, when it was bought, when it was last seen etc. Chips are either sewn into or onto the garment. One of the commonly held perceptions about implementing an RFID system is that it is necessary to chip all items in circulation, at the same time (which often puts potential customers off), this, however, is not the case. Once the system is implemented at a site, customers can be migrated across onto LinenTrack RFID as and when required.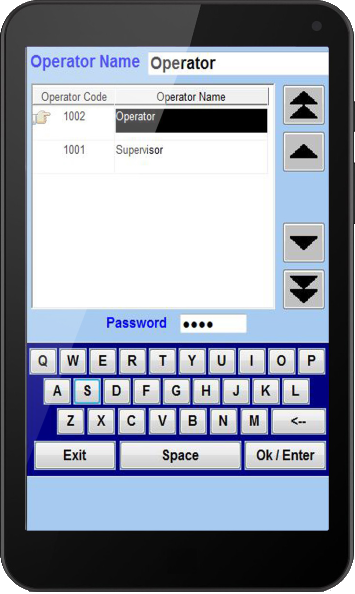 LinenTrack RFID consists of static arches, table top readers and portable hand-held devices which combined gives you complete control of you linen or uniform lifecycles. Once a chipped item passes by the reader individual item information is captured and stored in the database.
The readers have the ability to identify thousands of items simultaneously and all of this information is fed back into the centralised database.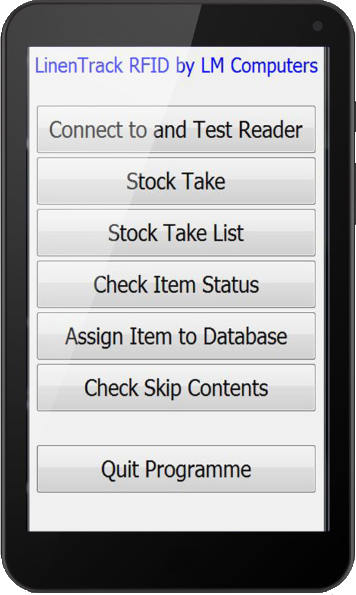 In time the entire lifecycle of that item can be seen within the system, which leads to one of the major benefits of LinenTrack RFID which is providing the data required to assess linen quality. Since implementing LinenTrack RFID our customers, through better data, have had informed discussions with their chosen suppliers around quality issues.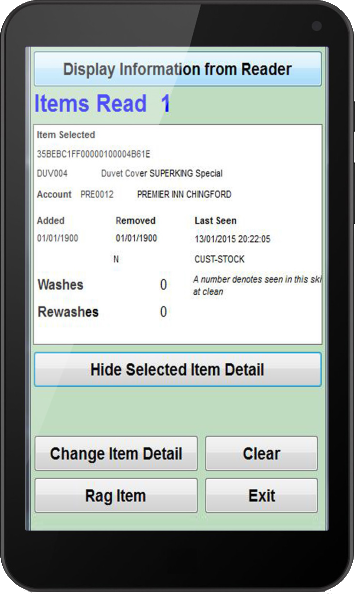 Ultimately LinenTrack RFID saves our customers not only time but money. This has been demonstrated not only in terms of quality, but also loss of items. When implemented into one of our customers' gym premises, towel losses were cut by approximately 90%. RFID enables the user to identify if a customer or staff member is leaving the premises with a towel, as there is functionality within the system to sound an alarm. This, our customers find, is a real deterrent. If however, towels do still go missing it is quick and easy to identify.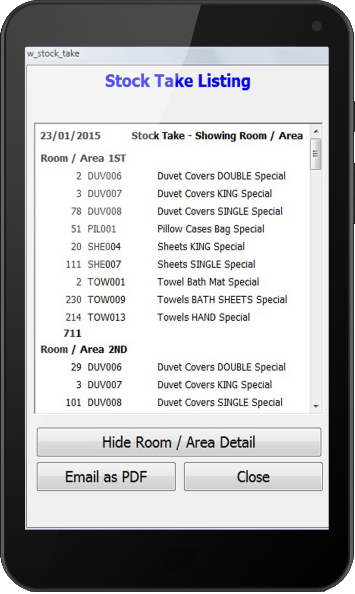 Benefits of LinenTrack RFID
Linen Count - Accuracy In counting the linen the system is proven to be considerably more accurate than counting by hand, and far, far quicker.




Bespoke Hand-Held Device - The RFID software is fully integrated with Windows 8.1 which sits on a 7" tablet on top of a Bluetooth RFID reader. This portable device makes tasks such as stock taking and checking accuracy of the inventory of deliveries and items leaving the premises incredibly quick.




Speed of Item Count - The system gives an automated, accurate count of all items instantaneously as the items pass by the aerials, thus saving a considerable amount of time compared to manual counting.




Quality Control - Through the collation and analysis of garment data, over time, LinenTrack RFID will give you the ability to better manage the quality of linen.




Proactive Management - LinenTrack RFID has the ability to pro-actively tell the user what items has been received, washed, rewashed, ragged and what is being sent back to them. This in turn allows its users to better manage its linen levels.




Alerting Mechanism - Once an item is chipped the system can be set up to alert the user in the event of something leaving the premises. Users can choose to turn this alert system on or off.




Reporting - There is a whole suite of reports available as part of the LinenTrack RFID, some of these are standard, however, bespoke reports can be written wherever required.
Technology Solutions (UK) LTD is the supplier of the UHF RFID reader which LM Compuers use in conjunction with the LinenTrack RFID Tablet and software. These hand held devices are a great fit, as they are light weight and easy to operate.